katsu curry
japanese curry is a great quarantine meal.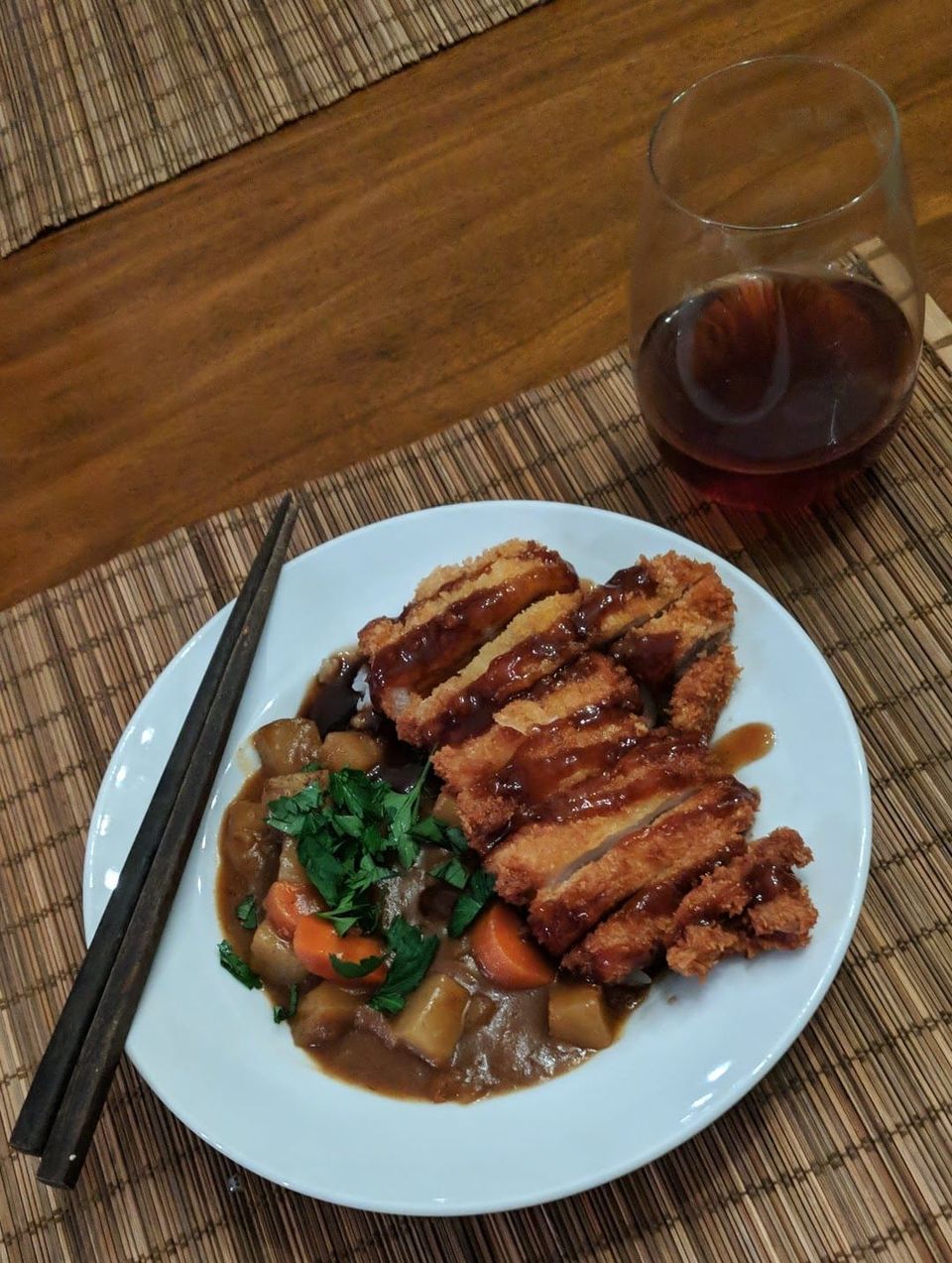 i used to make katsu curry all the time - it's the perfect comfort food. i'm not sure why i stopped! frying the cutlets can be kind of a pain, but it's good for my cast iron skillet and the oil can be reused, so there's no reason not to make this more.
japanese curry is a great quarantine meal - onions, potatoes, and carrots are all storage vegetables that we stocked up on last month when we realized we might be home for a while. i use s&b golden curry roux, but you can try making your own using a recipe like this one (which i haven't tried, but it was linked in a bon appetit newsletter email so it must be good, right?)
i made this last night with chicken thighs for the first time because i didn't have pork, and it turned out really nicely. chicken thighs are much more forgiving and stay juicier than lean pork meat so i might just stick with chicken from now on, even though pork is more traditional. i wouldn't recommend chicken breast here as it's even easier to overcook than pork.
incidentally, the skin-contact sivi i was drinking went better with the dry chorizo i was eating earlier - katsu curry calls for a classic asian lager like sapporo reserve imo
if you don't feel like making katsu, you can always chop up the chicken into bite sized pieces and cook it directly in the curry!
---
katsu curry
adapted from s&b foods master recipe
yield: 4 servings
ingredients:
[curry]
1 4.2 oz box curry roux (4 squares)
1 yellow onion, chopped
2 carrots, diced
1 tbsp vegetable oil
800 ml water (or whatever it says on your curry box!)
1 russet potato, cut into large squares
[katsu]
1 lb pork loin cutlets or boneless, skinless chicken thighs
1/2 cup all-purpose flour
2 eggs, beaten
panko or breadcrumbs
neutral oil for frying
salt and black pepper to taste
[to serve]
steamed japanese (short-grain) rice
chopped parsley
okonomi or tonkatsu sauce to taste
instructions:
[curry]
heat the oil in a medium saucepan. add the onion to the pan and cook gently on a low heat until lightly browned. add the carrots and potatoes and cook for 2 minutes. add water  and bring to boil. reduce the heat to medium, simmer for 5 minutes.
remove the pan from the heat to cool the soup for 3 minutes, then break the curry roux into pieces and add them to the pan. bring the sauce to boil then reduce the heat to low and simmer for 5 minutes. keep stirring constantly while it is simmering to avoid burning the sauce. after 5 minutes, cover and put on your smallest burner at the lowest temperature to keep warm and allow the carrots and potatoes to soften while you make the katsu.

[katsu]
pound chicken or pork to uniform 1/2 inch thickness and season with salt and pepper. set up three plates or shallow bowls for flour, egg, and panko. season each of these with salt and pepper (or get creative - hot sauce, garlic powder, whatever you like). for each piece of meat, dredge in flour, then dip into beaten egg and let the excess drip off. coat with panko (or breadcrumbs).
fill a cast iron skillet or dutch oven about 1.5 inches deep with oil and heat to a little higher than 350F - it will cool when the meat hits it. drop a few panko into the oil to test if the temperature is correct. (they should float to the surface and sizzle.)
deep fry the cutlets for around 3 minutes a side, keeping an eye on the oil temp to make sure it stays around 350F. don't put all the cutlets in the oil at once; this will cause the temperature to drop too much. Set on a wire rack or paper towels to cool to serve, slice one cutlet into bite sized strips and place on top of rice in a bowl or plate.drizzle okonomi sauce on top. ladle a spoonful of curry next to the rice and sprinkle with parsley.