dad's lasagna
we don't have a lot of food traditions in my family but this is one of them.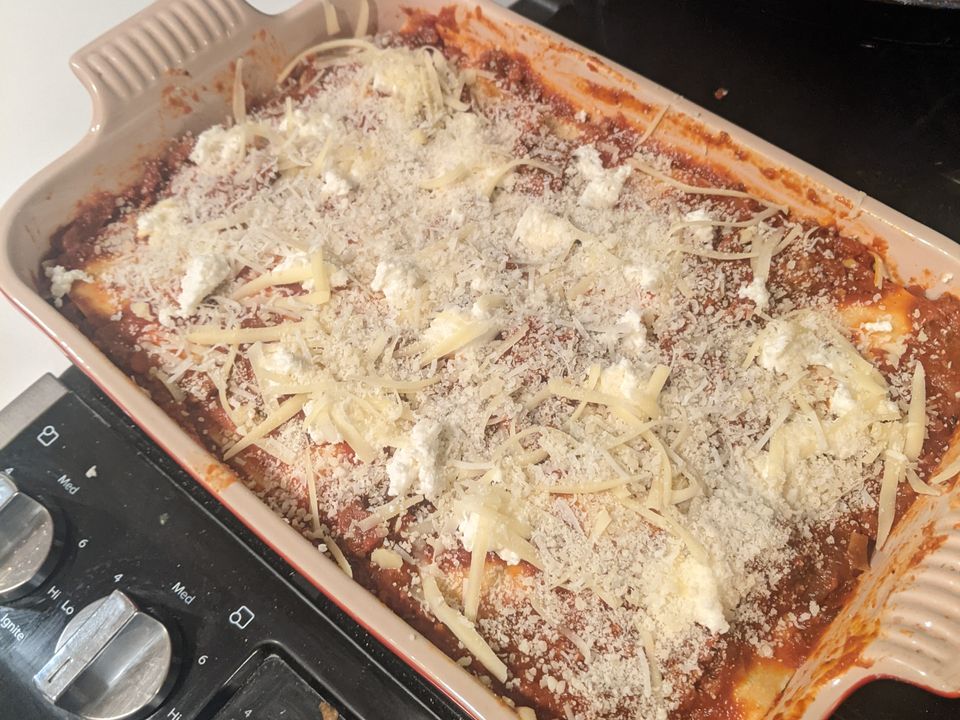 we don't have a lot of food traditions in my family but this is one of them. writing this down mostly for me so i don't have to text him every time i try to make this in the coming years. enjoy
the sauce
dad really wings it when he makes this because that's what he learned from watching his mom, so this isn't gonna be a super exact recipe.
heat up a generous amount of olive oil, maybe a quarter cup, in a heavy bottomed pan like a dutch oven or stockpot, over medium-low heat. don't let it smoke. dice a large yellow onion and toss it in, cooking until translucent. right before the onions are ready, toss in 4 or 5 minced garlic cloves and cook for a couple of minutes, then pour in 2 to 3 cans of crushed tomatoes. i used 2 last time i made it and cooked the sauce down too much - it was too reduced and i didn't have enough to make the lasagne. so, you can do 3 cans and let it reduce for depth of flavor, or 2 cans and cook it covered so it doesn't evaporate.
meanwhile, heat up a cast iron skillet or similar until really really hot, then sear some meat. i use a pound of ground beef and a pound of italian sausage. dad uses beef stew meat that he cuts into small dice, instead of ground beef.
whatever you're using, you'll want to get a good sear on it to add depth of flavor, so add it to your hot skillet in a single layer and let it brown undisturbed for however long you need to get a nice crust on it. once that happens, break it up with a wooden spoon and toss it a bit until it's almost cooked through. you might need to do this in a couple of batches, just empty it onto a plate or bowl (or straight into the pot, if you've already added the tomatoes) and do the next batch without cleaning out the pan or anything.
when you're done searing the meat, deglaze the pan to get all those good brown bits. to do this, turn the heat down to medium, pour in some red wine, and use a wooden spoon to scrape the brown bits from the bottom of the pan. you can pour this mixture straight into the large pot with the onions, or you can cook some sliced mushrooms in it first, if you like mushrooms. then toss it all into the sauce.
italian sausage has some seasoning, but you'll want to add more. i added a hefty amount of dried oregano and dried basil, rubbing it between my palms to break it up as i added it. i also added a whole sprig of fresh rosemary. if you have dried italian seasoning, you could add that too (or instead!). i like black pepper so i also added about 30 turns of that from my pepper mill. you can wait to salt it until the end since there's salt in the sausage.
at this point you just want to cook it down to your desired consistency and get the flavors to meld nicely. bring it up to a low simmer and put on the lid slightly askew to allow steam to escape. if you're cooking stew meat it's going to take longer than ground meat, so you might want to cover it for a bit so it doesn't reduce too much.
for ground meat, check it after an hour. if it's too thin, keep cooking with the lid off until you've reached a consistency you like. if it's too thick, you can thin it with water or red wine to loosen it up a bit.
the pasta
i diverge from dad a bit here. he does 100% semolina flour, eggs, water, and olive oil, and he works it immediately with no rest. i couldn't remember how he did it so i just started following the Alice Waters recipe in The Art of Simple Food, except I do 50% semolina and 50% AP (rather than 100% AP like she does).
mix a cup of semolina flour and a cup of white flour in the bowl of a stand mixer with the paddle attachment. in another bowl whisk together 2 eggs and 2 egg yolks. turn on the mixer at low speed and slowly pour in the eggs until it starts to come together, then dump it out onto a clean countertop and knead it some more. if it's too dry, you can coat your hands in olive oil or water to introduce some moisture as you keep kneading. when the dough feels smooth, wrap it tightly in plastic wrap and let it rest at room temp for about an hour.
to make the noodles, set up a pasta maker. working with 1/4 of the dough at a time, flatten it and run it through the pasta maker on the widest setting. fold it into thirds and repeat until it's smooth and even, then put it through the machine at progressively thinner settings until it reaches the width that you want. you might need to cut it in half if it stretches out too far.
once you're done rolling it it out, cut the noodles into a shape that fits into the pan you're planning on using. if you're not immediately constructing the lasagna, toss the noodles with a little bit of flour on a half sheet pan so they don't stick while you're doing the rest of the work - you won't be cooking these noodles before they go in the lasagna.
bonus points: the ricotta
dad called me a show-off when i sent him a photo of the homemade ricotta i was draining, but i think it makes a difference. you'll want about a pint of ricotta for the recipe, so take a quart of milk, a pinch of salt, and a half cup of white vinegar or lemon juice and heat it slowly on the stove until its hits 165F. turn off the heat and stir for a few minutes to encourage the curds (white) to separate from the whey (yellow), then drain it in a cheese or nut milk bag, or a fine mesh strainer with several layers of cheesecloth. cover it with plastic wrap while it's draining, and then let it go until it hits the consistency you like.
assembly
aside from the noodles, the sauce, and the ricotta, you'll also need mozzarella and parmesan. you can get a block of mozzarella to shred (probably about a pound), or you can use fresh mozarella (shrink wrapped or in water) and cut it into 1/4" slices. just don't buy pre-shredded cheese because that comes covered in anti-caking agents and it tastes bad. whole milk mozzarella also tastes much better than skim, but that's just my opinion. for the parmesan, sometimes i'll buy pre-grated because i know my supermarket grates it there and packages it themselves, but if your supermarket doesn't do that, then buy a block and grate it yourself. parmesan is pretty strong so don't over-index on that - the mozzarella and ricotta should be the primary cheese flavors. buy more than you think you'll need and then make other delicious things with the leftovers. i made ricotta pancakes.
to put together the layers, start by spreading about 1/4 cup of sauce in the bottom of a 13 x 9 casserole dish. spread some noodles on top of that and then pour more sauce over it, spreading it with the back of a spoon to make sure the noodles are evenly covered. remember, we didn't pre-cook the noodles, so all the moisture for hydrating the noodles will be coming from the sauce. don't drench them, just don't leave any dry spots.
next, layer in the cheeses by either sprinkling a healthy layer of shredded mozzarella or setting the slices evenly throughout the pan, maybe 6 to 8 slices per layer. in between or on top of the mozzarella, spoon in some ricotta, maybe a tablespoon at a time evenly spread across the pan. on top of this, sprinkle some grated parmesan, then pour in another layer of sauce. then noodles. repeat until you run out of stuff - you'll want to end with the cheese on the top.
tl;dr sauce-noodle-sauce-mozz-ricotta-parm-repeat
when you're done assembling, cover the pan tightly with foil and bake at 350* for about 45 minutes. if you're serving it right away, maybe take the foil off and broil the top a bit to get some nice bubbles. otherwise you can put it in the fridge and reheat it in the oven at 350* for 30 minutes - don't microwave it, it'll get dried out.
and that's it! enjoy!