hokkien mee
the proper dark style malaysian pork & seafood noodle dish
the proper dark style malaysian pork & seafood noodle dish
singaporeans make it light-style. they are wrong. it's okay.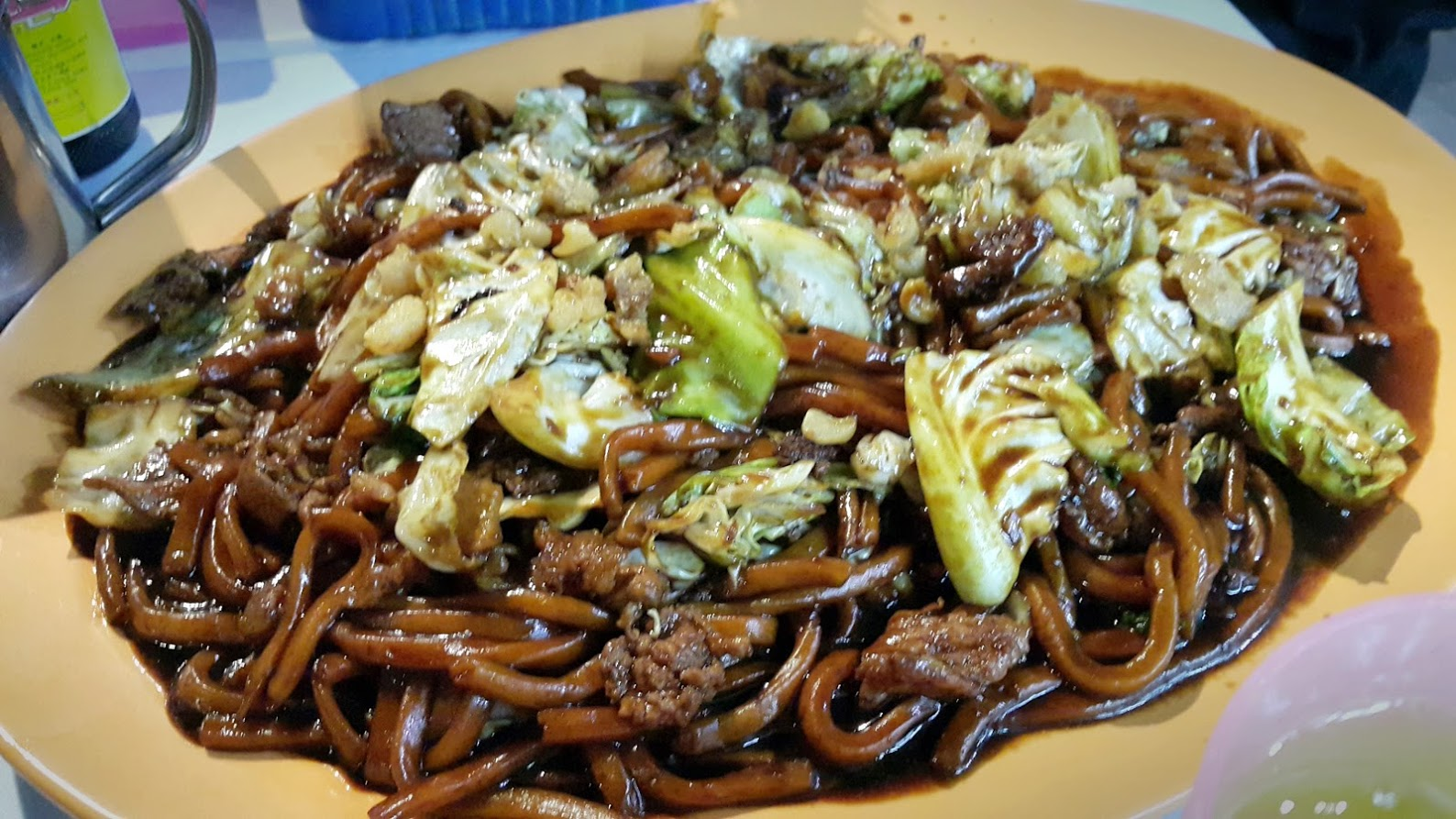 ingredients
[sambal belacan - optional but recommended, otherwise you can use sambal oelek]
10 red Fresno chiles
2 tablespoons belacan*, toasted in a dry skillet
2 limes, cut into wedges
[marinade]
1 lb pork loin, sliced
1 tbsp soy sauce
1 tsp sugar
1 tsp oyster sauce
1 tsp sesame oil
2 tbsp cornstarch
[sauce]
1 tbsp sesame oil
1 tbsp oyster sauce
3 tbsp soy sauce
1 tsp sugar
1 tsp white pepper
hot sauce (sriracha or whatever is on hand)
6 tbsp dark caramel sauce (you can use kecap manis or thick soy sauce if you can't find it)
[everything else]
10 cloves garlic, minced/pressed
1 large shallot, minced
4 tbsp vegetable oil or lard
2 cups chicken broth + more as needed
1 lb thin sliced boneless pork chop
1 lb (1/2 packet) of seafood mix (Trader Joe's) (or mix together frozen shrimp, squid, and scallops)
handful of sliced dried shitake mushrooms
2 cups of sliced napa cabbage or bean sprouts or chinese chives or yu choy
2 lbs fresh thick yellow egg noodle (or frozen udon, in a pinch)
1/2 lb pork fat, cut into 1/2 in dice (optional, for cracklins)
lard
[instructions]
to make the sambal, dry fry belacan in a skillet for a few minutes, until it is crumbled. this is gonna stink up your house - enjoy it. grind chile in a blender till fine paste. add belachan and mix well. set aside.
if making lard/cracklings, in a wok, render the pork fat over medium-low heat until the cracklings form. about 1/2 hour. remove the cracklings to drain on a paper towerl and reserve lard.
in a medium bowl, combine marinade ingredients (soy sauce, sugar, and oyster sauce) and mix well. thinly slice pork (about 1/4 inch) and add to bowl, turn to coat. add corn starch to the bowl, mix well. set aside to marinate.
slice up napa cabbage very thinly, if using. cut chinese chives into 3" lengths. spray hot water on the noodles in a colander to soften and warm up in the kitchen sink. leave in colander till needed.
prep the sauce: in a bowl, add all sauce ingredients and whisk to mix.
note: if you're making the full recipe, you'll be doing it in two batches.
to make the noodles, heat 3 tbsp reserved lard (or vegetable oil, i GUESS) in a wok over high heat. when hot, add the half of garlic and shallots and half of pork, stir fry every now and then. don't allow the garlic and shallots to burn. allow enough time for the pork to cook before flipping the pieces. when the pork is almost cooked, add a bit more lard and then half of the seafood mix. stir to combine and allow to cook through for a couple of minutes.
ladle in 2c of stock. next add noodles. drizzle in the sauce. toss till noodles are well coated. cover to simmer on medium heat for 5 minutes. taste noodles for tenderness. add more stock if necessary.

add yu choy and/or napa cabbage, if using. turn back heat to high, cook until sauce is mostly absorbed by the noodles. fold in some pork cracklings and a tablespoon of lard to finish. serve immediately with sambal and lime.

*belacan is malaysian fermented shrimp paste and it comes in a hard brown brick. not swappable for the more paste-like thai etc versions. its gonna make your house/pantry/etc smell, a lot, so you can skip it if you're sensitive to that but it's a huge part of the flavor