knitting round-up 2021
2021 was the year that i quit my job and got back into knitting.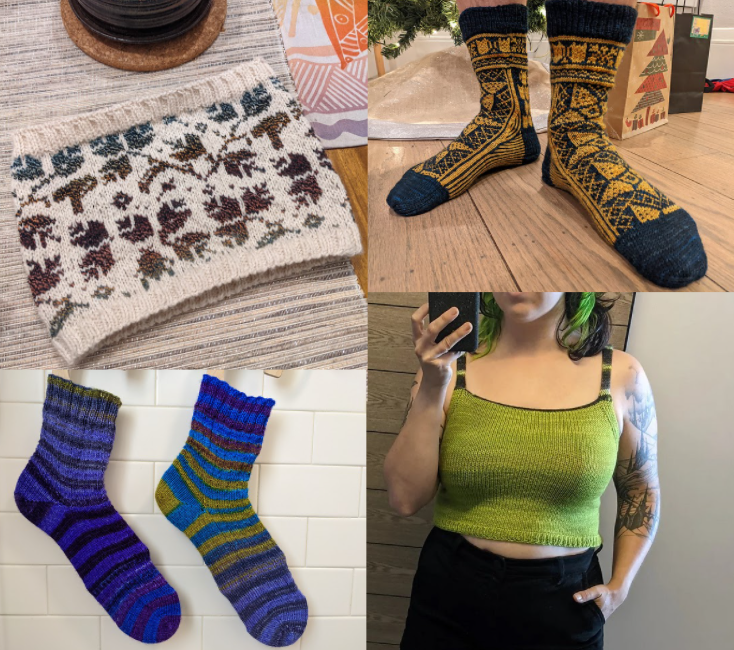 2021 was the year that i quit my job and got back into knitting.
i learned to knit when i was a pretty young kid, when my great-grandmother passed away and i inherited her knitting needles for some reason. i would try getting back into it every few years, but maybe it took unemployment plus finally being medicated for my ADHD to give it the time and attention that it needed. plus i mean what else am i gonna do while binging entire seasons of tv shows at a time
finished objects
wool & the gang relax knit through it sweater (link)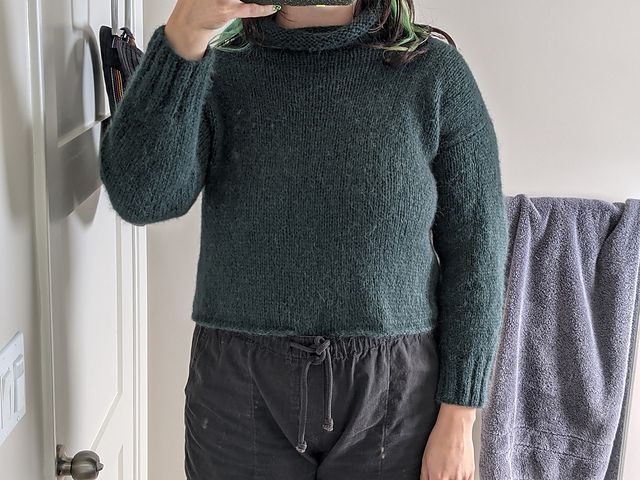 this was my first real attempt at making a garment. purchsed as a kit from wool & the gang. i thought it was super cute especially after adding the additional decreases & ribbing to the sleeves, but had a lot of trouble with the assembly. ultimately i ended up frogging this project because it was too small.
i wouldn't buy this yarn again. despite not even being 100% wool it was desperate to felt to itself which made unraveling a huge pain.
new techniques learned: increasing and decreasing stitches, mattress stitch, blocking
summer secret crop (one, two)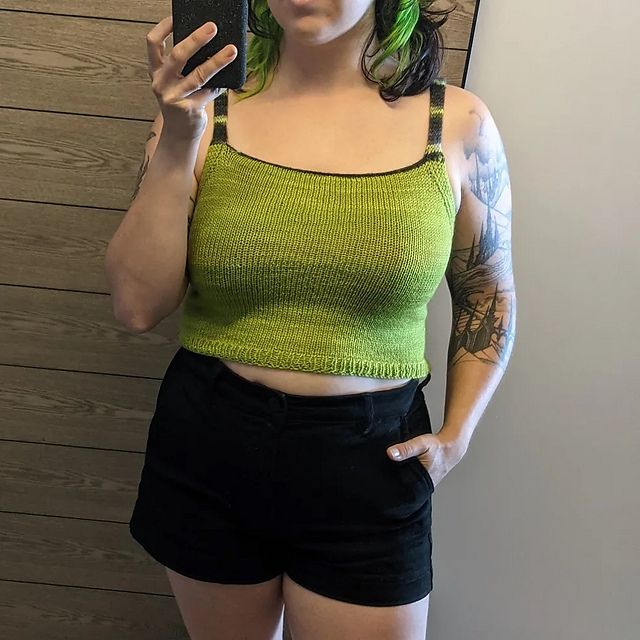 andy & heather got me a gift card to a verb for keeping warm for my 30th bday so i used that to buy this grey cotton sport weight yarn with the intention of making a matching cami & shorts set. unfortunately my cast-on for the cami was super tight so it's a bit hard to put on. working with cotton is probably not great for a beginner as it isn't as forgiving as wool in terms of showing irregularities. also it's see through lol.
i like the pattern though so i made another one using some chartreuse superwash wool, also from verb. this yarn was a dream to work with, though i ran out right before getting to the straps and had to use some other complementary yarn to finish. that being said i think it looks dope as hell and it's probably my favorite thing i've ever made.
new techniques learned: knitting in the round, i-cord (straps), bust shaping
baby yoda hat (link)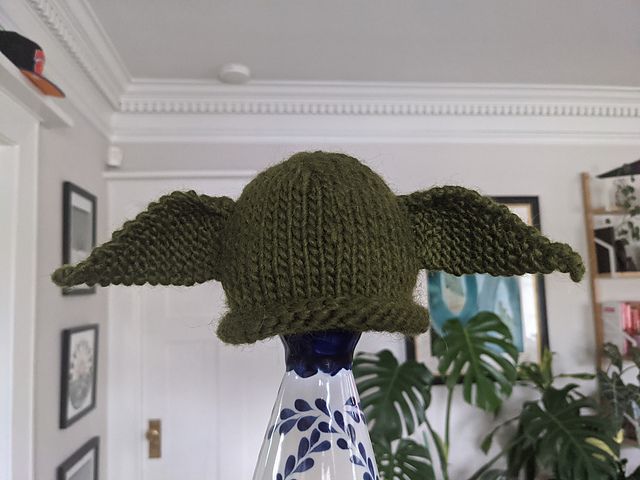 i used some yarn i've had for like 15 years to make this cute little hat for cam and lauren's new baby. unfortunately babies grow fast and have big heads so by the time halloween rolled around it was way too small lol. oh well
toe-up socks for andre (link)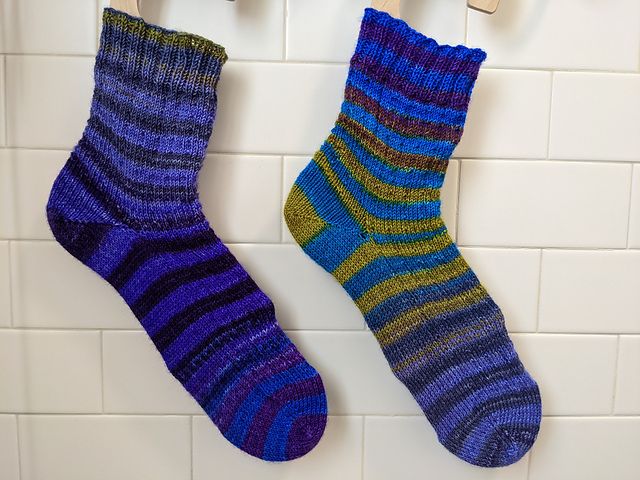 my first pair of socks! andre picked this yarn out when we were in new york in june. i think they turned out awesome but i wish i'd tried a bit harder to match the colors. also could have made them much, much longer as there was more than enough yarn leftover afterward.
new techniques learned: stretchy bind-off, short row heel
tofino cardigan (link)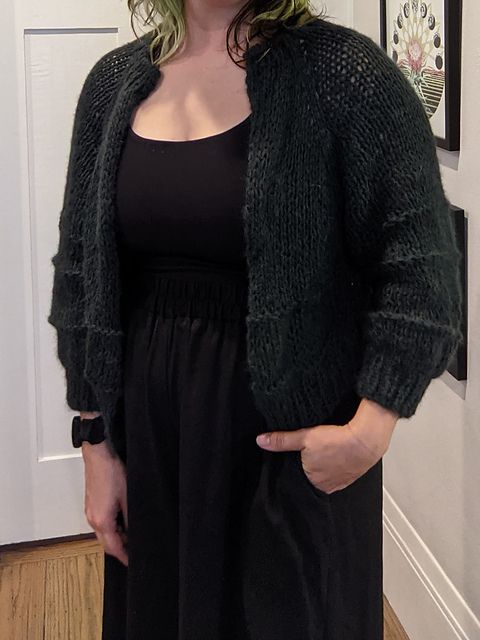 after i frogged the 'relax' sweater, i spent a bunch of time trawling through ravelry to get ideas for other sweaters people had made out of the 'feeling good' yarn. i kept coming back to this pattern, which is designed for the super bulky malabrigo rasta. this knit up super quick, but i was pretty annoyed with using the massive sz 17 needles, and i also messed up the purl rows so i didn't have the stripes in the right place. it hangs kinda weirdly too. but it's insanely warm and i do like the sleeve detail. maybe i will go back and add a button placket or some ribbing to fix the weird drape.
new techniques learned: top-down sweater, picking up armhole stitches
basic cuff-down socks (link)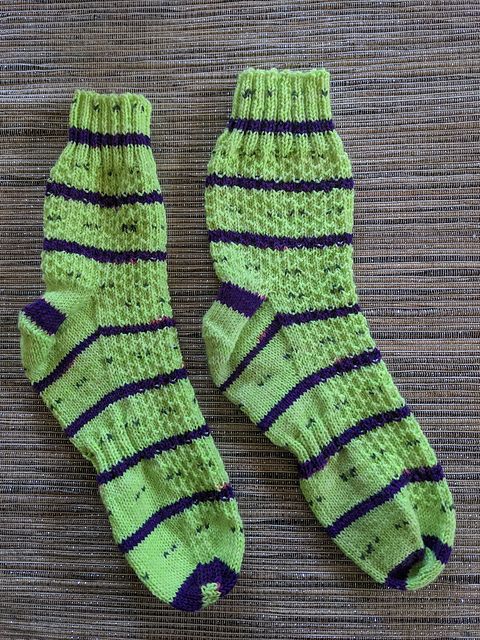 made these from some self-striping yarn that i got in new york. tried to get fancy with it and added some texture from a different pattern and also some ribbing along the foot. in retrospect i wish i had 1. found some matching yarn to do the cuff, heel and toe and 2. not done all the weird patterning. though i may have enough yarn left over to make another pair if i do find that.
one frustrating thing is that this yarn is not colorfast at all. not only did it fade when washing, the purple also bled into the green. and this is supposed to be superwash!! annoying.
new techniques learned: kitchener stitch
dye garden cowl (link)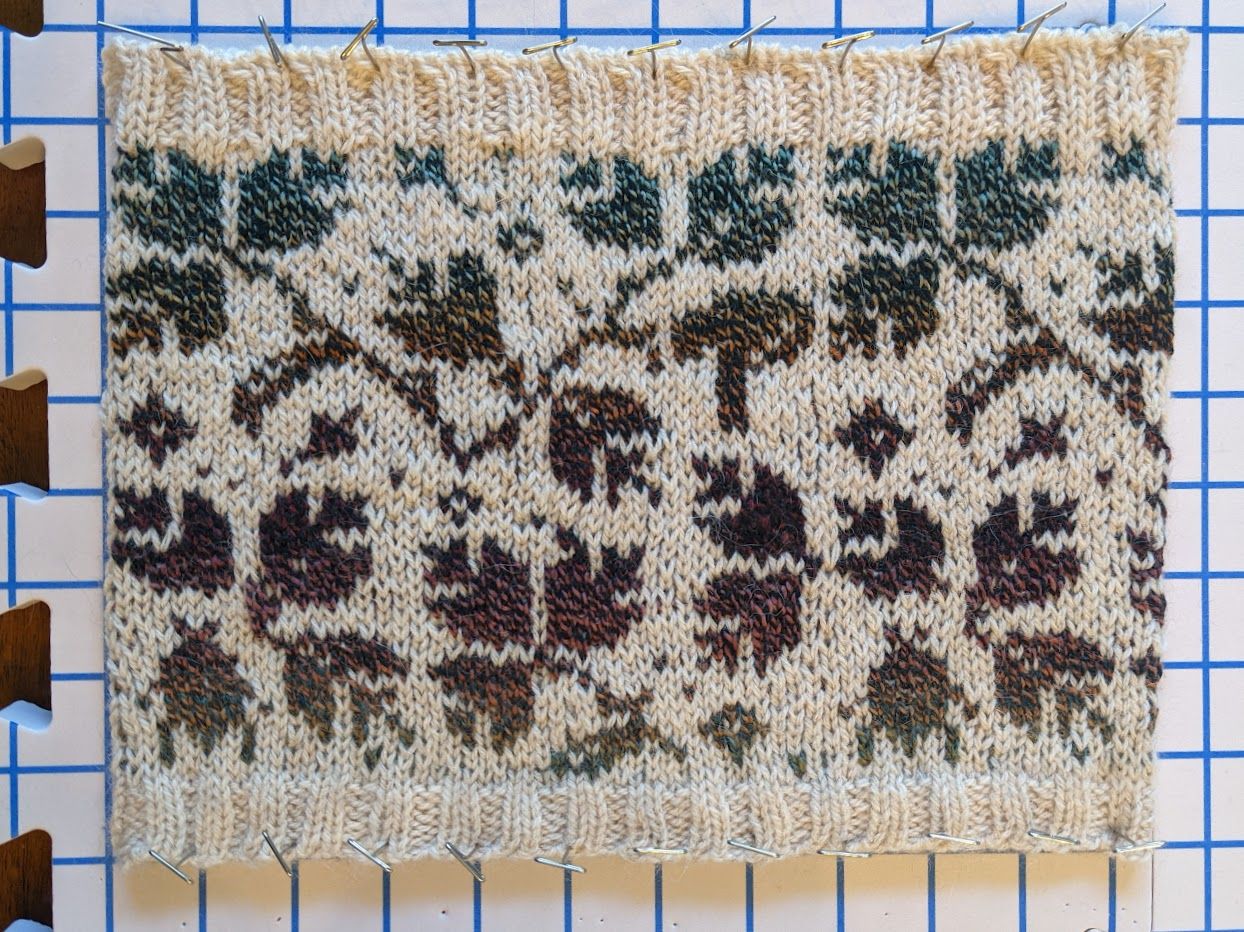 i got this pattern as a kit from a verb for keeping warm. the white yarn is made by them, and the colored yarn is a custom color made for them by spincycle. the pattern was also designed by one of their (now former) employees.
this was my first ever colorwork pattern. i made it about halfway through and realized that it was extremely puckered due to not leaving enough slack on my floats, so i frogged most of it and started over. i also changed my grip from one strand in each hand to both strands in one hand, continental style. i also switched from magic loop to a shorter cable that allowed me to spread the entire cowl around the circumference of the cable, helping me to maintain the slack.
this was a gift for my mom for xmas and i'm super happy with how it turned out. it also kind of led to a spree of colorwork that caused my hands to cramp up for a while, oops.
new techniques learned: stranded colorwork, catching floats
seven stars mitts (link)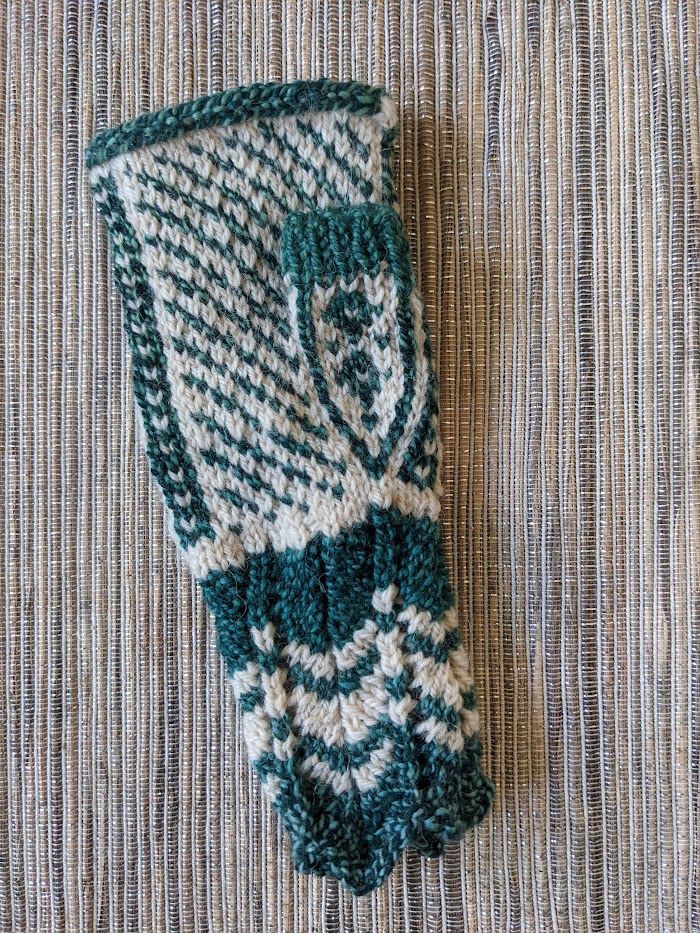 so i had some yarn left over from the cowl and decided to make some matching mitts. i was also kind of bummed that the teal didn't show up as much in the cowl, due to the gradient, so i wanted to make sure that i got to use that part of the yarn as well.
i made the smallest size of these and they turned out tiny, which is great because my mom has tiny hands. they were super quick, too - i think i did one of the two gloves in a single day.
i've always loved the look of those traditional scandinavian mittens, so i'm glad i found this pattern! mom loved them, i think.
new techniques learned: i-cord bind off, lace, thumb gusset
find your way beanie & cowl (one, two)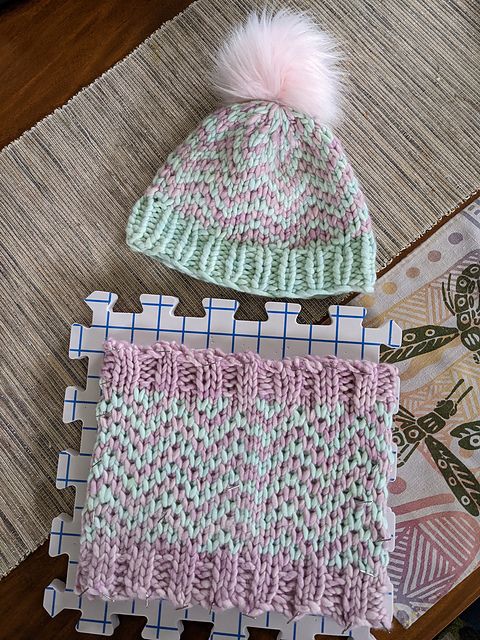 i had originally planned to make andre some stranded colorwork mitts for xmas, but then i saw this pastel malabrigo rasta at verb and had to grab it for him. there's a bunch of one-skein projects designed for rasta on ravelry and i was happy to find this set that was specifically designed to use up two different colors. i was worried that the pompom wouldn't match (random etsy find) but it's so perfect! luckily the cap was also big enough for his head lol
new techniques learned: mosaic knitting
pizza and beer socks (link)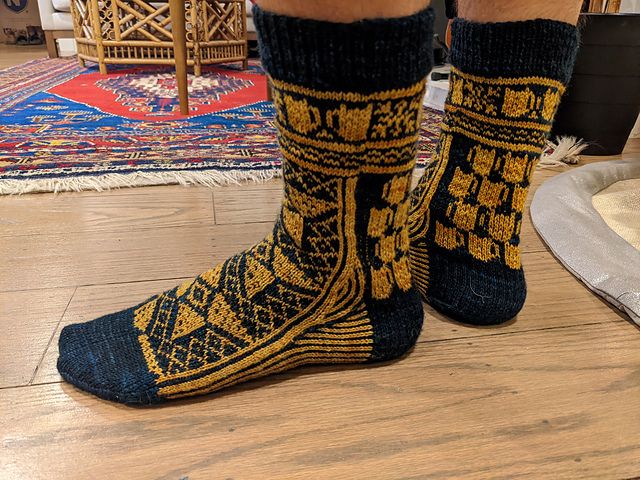 these almost broke me. i finished the first sock with what i thought was plenty of time, but experienced major second sock syndrome and had to set a harsh schedule to get these done in time for xmas. pretty sure i have permanent nerve damage in my right ring finger from this lol.
but they're so gorgeous, aren't they? made these for my brother for xmas and they are probably the most beautiful thing i've ever made. the yarn was a dream to work with and contrasted perfectly.
if i ever make another pair of socks again i will be doing the two at a time method, i think
new techniques learned: setting a daily schedule for knitting
unfinished objects
so summer shorts (link)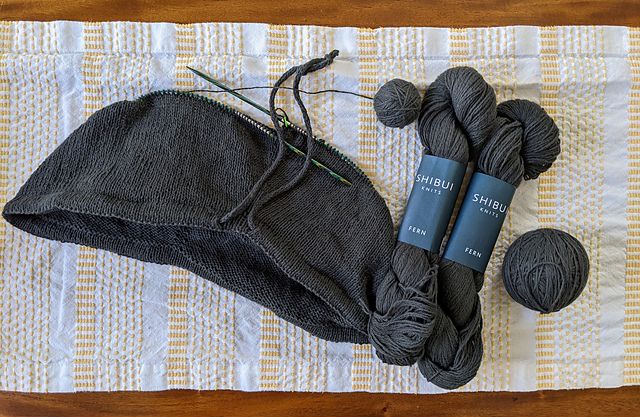 these were meant to be the companion garment to the grey camisole above but i really ran out of steam. worked on them all throughout my trip to new york in june but got pretty bored about halfway through and just never picked them back up again. the cotton was pretty challenging to work with. maybe i'll try to finish them this year before the weather warms up again.
new techniques learned: foldover hem, german short rows